VUK JOVANOVIC, MD, FACOG
Tree of Life Center, Medical Director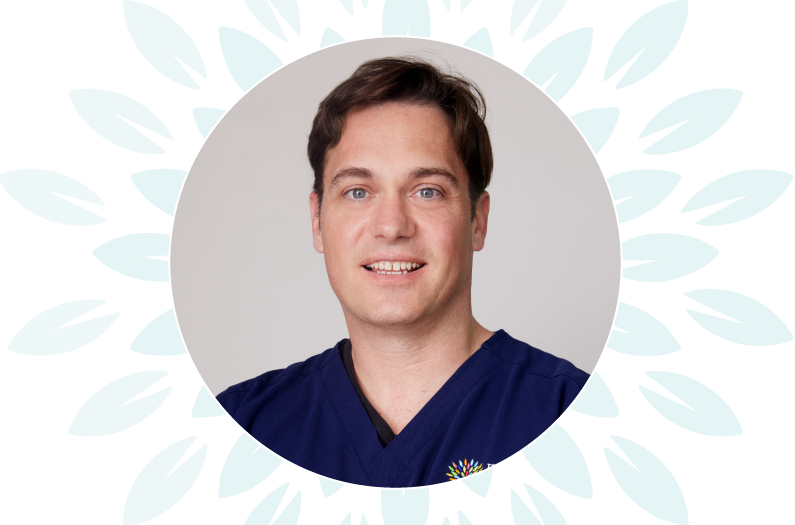 Specialist in reproductive endocrinology and infertility board certified by the American board of obstetrics and gynecology
Dr. Vuk Jovanovic completed his fellowship training in Reproductive Endocrinology & Infertility at Columbia University in New York City in 2010 and residency training in Obstetrics and Gynecology at Duke University in North Carolina in 2007. In the United States, these two programs are among the most competitive postgraduate training programs,, and only a selected group of physicians succeed in securing the training positions.
During his fellowship in New York, Dr. Jovanovic also attended the Mailman School of Public Health. Dr. Jovanovic completed his medical school in Germany at the Johannes Gutenberg University in Mainz in 2003. During his time in medical school, he completed a research semester at the University of Pennsylvania (UPENN) in Philadelphia with an emphasis on gene therapy. He also received a stipend and participated in the summer research program at City of Hope in Duarte, California. He was an exchange student with Harvard University, University of Texas, Baylor College of Medicine, and University of California San Diego. In his early medical school years, he spent time at the Imperial College of Medicine in the United Kingdom.
Dr. Jovanovic is double board-certified in Obstetrics & Gynecology and Reproductive Endocrinology by the American Board of Obstetrics and Gynecology and in Germany. He is the medical director of the Tree of Life Center for Assisted Reproduction in Tarzana, California and California Fertility Clinic in Los Angeles. He is a multinational physician that has trained and worked in several countries, and has treated patients from all over the world. Through his experiences of being a fertility care provider in different countries while utilizing an extended repertory of fertility drugs, (some not yet marketed in the United States) made Dr. Jovanovic a hard to match expert. He has managed thousands of IVF cycles in the United States and Europe. He speaks German, Serbian and Russian. He is licensed to practice medicine in the United States, UK, Germany, and Spain. He is well connected in Germany, Russia, Japan, India, Thailand, Israel, and China. He picked to settle in Los Angeles due to his interest in 3rd party reproduction and love for California. The multi-cultural environment in Los Angeles fits his personality and enables the full scope of services, including egg donation and surrogacy. After moving to Los Angeles, Dr. Jovanovic worked at the Center for Fertility and Gynecology under Dr. Michael Vermesh. The latter is a famous fertility specialist in Los Angeles, and runs a private fertility practice for over 30 years. Many other successful fertility specialists like Dr. Snunit Ben-Ozer, Dr. Eliran Mor, and Dr. Nurit Winkler and Dr. Marc Kalan started their careers in Los Angeles with Dr. Vermesh. After acquiring the necessary experience to navigate the fertility landscape in Southern California, Dr. Jovanovic took over the position of the medical director at Tree of Life Center from Dr. Ben-Ozer. Dr. Jovanovic is the founder of Kinderwunschzentrum Los Angeles and Pacific Surrogacy and Egg Donation.
It is to no surprise that Dr. Jovanovic ranks among the top fertility doctors in Los Angeles. Beyond providing services in Southern California, many patients travel from all over the world to seek his expertise as a reproductive care provider. Regardless of where you will be coming, you can expect only the highest quality care.
Dr. Jovanovic is a member of the American Society of Reproductive Medicine (ASRM) and the European Society for Human Reproduction and Embryology (ESHRE) and actively attends meetings on both continents. We are always looking forward to connecting with fertility centers worldwide and cooperating on providing seamless care.
Apart from his expertise and excellent success rates, he will provide compassionate and personal care to every single client. He has helped numerous couples in the United States and across the world achieve the dream of parenthood, and is happy to serve his patients in Southern California and beyond.
TESTIMONIALS
My husband and I met with 3 fertility Dr.'s and "Dr. J" was by far the best. He cares about his patients over the money, and it shows. He has met with us on a Holiday, a Sunday, at 7 AM for an IUI, a personal phone call at 8 PM to make sure I got my trigger shot on time. He greets you with a smile and a hug or handshake. Talk to you like a person, not a scientific statistic. He was patient with me when I had a painful procedure. Always returned my calls or emails to answer this anxious patient's questions.
Carrie H., Long Beach, CA
Throughout the long journey Dr. J. was empathetic, willing to answer questions and supportive. I was always impressed with how much he knew about his field and genetics in general, but if we had a suggestion or idea of something we wanted to try, he was open to that as well. Because of how my condition affected my ovaries the retrieval process was pretty difficult, but Dr. J. constantly adapted our protocol to try and maximize our results. Once we finally got a Fragile X free embryo, the implantation was successful on the first try (due to his skill).
Genevive P., Studio City, CA
Please contact us to schedule an appointment using the form below or contact us directly.
We also offer Zoom and Telephone consults to make the process more convenient for you.
PUBLICATIONS
Intraovarian regulation of gonadotropin-dependent folliculogenesis depends on notch receptor signaling pathways, not involving Delta-like ligand 4 (Dll4).
Jovanovic VP, Sauer CM, Shawber CJ, Gomez R, Wang X, Sauer MV, Kitajewski J, Zimmermann RC.
Reproductive Biology & Endocrinology. 2013 May 15;11:43.
Laparoscopic Management of Ovarian Entrapment: A Rare Complication of IVF
Nakhuda GS, Jovanovic V, Sauer MV.
Journal of Gynecologic Surgery. 2012 Apr;28(2):136-137.
Does the addition of clomiphene citrate or letrozole to gonadotropin treatment enhance the oocyte yield in poor responders undergoing IVF?
Jovanovic VP, Kort DH, Guarnaccia MM, Sauer MV, Lobo RA.
Journal of Assisted Reproduction and Genetics. 2011 Nov;28(11):1067-72.
Not all women diagnosed with PCOS share the same cardiovascular risk profiles.
Jovanovic VP, Carmina E, Lobo RA
Fertility and Sterility. 2010 Aug;94(3):826-32.
Providing fertility care to men seropositive for human immunodeficiency virus: reviewing 10 years of experience and 420 consecutive cycles of in vitro fertilization and intracytoplasmic sperm injection.
Sauer MV, Wang JG, Douglas NC, Nakhuda GS, Vardhana P, Jovanovic V, Guarnaccia MM.
Fertility and Sterility. 2009 Jun;91(6):2455-60.
Ectopic pregnancy in a preexisting hydrosalpinx during a spontaneous pregnancy.
Garde RV, Jovanovic VP, Couchman GM, Walmer DK, Price TM.
Fertility and Sterility. 2006 Oct;86(4):1001.e11-3.
Adenovirus-mediated gene transfer of enhanced Herpes simplex virus thymidine kinase mutants improves prodrug-mediated tumor cell killing.
Wiewrodt R, Amin K, Kiefer M, Jovanovic VP, Kapoor V, Force S, Chang M, Lanuti M, Black ME, Kaiser LR, Albelda SM.
Cancer Gene Therapy. 2003 May;10(5):353-64.
An E2F-responsive replication-selective adenovirus targeted to the defective cell cycle in cancer cells: potent antitumoral efficacy but no toxicity to normal cell.
Tsukuda K, Wiewrodt R, Molnar-Kimber K, Jovanovic VP, Amin KM.
Cancer Research. 2002 Jun 15;62(12):3438-47.
PRESENTATIONS
"The Potential of mild stimulation IVF in Germany"
Vuk P Jovanovic
SAFE International ART Congress, Phuket, Thailand, May 14-16th, 2014
"GnRH antagonist vs. long GnRH agonist gonadotropin protocols in PCOS women undergoing controlled ovarian hyperstimulation"
Vuk P Jovanovic
World Congress on Ovulation Induction and Ovarian Stimulation Protocols, Goa, India,
September 12-15th, 2012
"A Notch Ectodomain Construct Inhibits Gonadotropin-Dependent Follicle Growth to the preovulatory stage"
Vuk P Jovanovic, M Sauer, Shawber J Kerry, Xing Wang, Mark V Sauer, Jan Kitajewski, Ralf C Zimmerman
Society of Gynecologic Investigation Annual Meeting, Orlando, FL, March 24-27, 2010
"Posthumous reproduction and gamete retrieval in near death situations – an analysis of the couple's perspective"
Nakhuda GS, Vuk P Jovanovic, Sauer V. Marc,
American Society of Reproductive Medicine, Atlanta, GA, October 17-21, 2009
"Baseline Levels of DHEA-S Levels do not correlate with Ovarian Responses in Women undergoing IVF treatment"
Vuk P Jovanovic, Michel Ferin, Michael M. Guarnaccia, Mark V. Sauer, Rogerio A Lobo
Society of Gynecologic Investigation Annual Meeting, Glasgow UK, March 17-21, 2009
"Differences in Body Composition in Different Phenotypes of Women with PCOS and in idiopathic Hyperandrogenism, and Correlations with Androgen and Insulin"
Vuk P Jovanovic, Enrico Carmina, F de Nicola, Giovam B Rini, Rogerio A Lobo
Society of Gynecologic Investigation Annual Meeting, Glasgow UK; March 17-21, 2009
"Does the addition of Clomiphene Citrate or Letrozole to gonadotropin treatment enhance the oocyte yield in poor responders undergoing antagonist IVF cycles"
Vuk P Jovanovic, Michael M. Guarnaccia, Daniel H. Kort, Mark V. Sauer, Rogerio A. Lobo
American Society of Reproductive Medicine, San Francisco, CA; November 8-12, 2008
"A Novel Recombinant hCG-Antagonist Inhibits Pro-Invasive Gene Expression in the JEG-3 Choriocarcinoma Cell Line"
Vuk P Jovanovic Drew V Tortoriello, Prati A Vardhana, Martin A Julius, Susan V Pollak, Joyce W Lustbader
Society of Gynecologic Investigation Annual Meeting, San Diego, CA March
"An hCG-Antagonist Represents a Novel Contraceptive Agent"
Pratibhasri A Vardhana, Martin A Julius, Susan V Pollak, Rhonda K Trousdale, Vuk P Jovanovic, Joyce W Lustbader
Society of Gynecologic Investigation Annual Meeting, San Diego, CA March 26-29 2008
"Improved Prodrug-Mediated Thoracic Tumor Cell Killing with an Adenovirus Carrying Herpes Simplex Thymidine Kinase (HSV-TK) Gene Mutants"
Rainer Wiewrodt, Kunjilata Amin, Michael Kiefer, Vuk P Jovanovic, Veena Kapoor, Margaret E.
Black, Larry R. Kaiser, Steven M. Albelda
The 5th Annual Meeting of the American Society of Gene Therapy, Boston, June 5-9 2002
"In vitro Differentiation of Mouse Embryonic Stem Cells into Pancreatic Islet Similar Structure – A Primary Study"
Guoxiang Zhang, Vuk P Jovanovic, Theodore G. Krontiris
City of Hope NCI Summer Research Presentations, Duarte, CA, July 2002
Connect with us
San Fernando Valley:
18370 Burbank Blvd. Suite 511
Tarzana, CA 91356, USA
Phone: +1 (818) 344-8522
Miracle Mile:
5455 Wilshire Blvd. Suite 1904
Los Angeles, CA 90036, USA
Phone: +1 (323) 525-3377
Canyon Country:
26615 Bouquet Canyon Rd Suite #1
Santa Clarita, CA 91350, USA
Phone: +1 (818) 344-8522